Perm
Perming hair is not for everyone and it has it's pros and cons. That said there has never been a better time to consider perming one's hair than today. In view of the advancement in technology, concerns like dry, frizzy and weakened hair due to over compromised can be a thing of the past. There are steps that can be added during the perm processes to either strengthen the bonds or balance the pH of the hair.
For those with straight and healthy hair, perming is a great way to a new style to look different. When it is done professionally, a successful perm has a softening effect on your hair and features while creating more volume and movement. For some it can save time especially in the morning with this fuss-free wash and style look yet the perm can be versatile depending on each individual requirements and expectations. It can create C curls, S curls to soft spiral curls.
At Casey Salon, keeping our customer's scalp and hair condition in the healthiest state possible is our priority. We have very effective pre and post treatment so as to reduce any dryness from the hair from it's past history before the perm is carry out. We do not recommend perming on weak and fragile hair. We do not use digital or thermal perm as this has a higher risk factors for the hair.
Airwave perm
Our Creative Director brought in the Airwave Perm (AWP) machine when it was first introduced. The AWP is a Japanese cutting edge 3rd generation technology born from air. While traditional digital perms use high heat to create curls, the AWP is a brand-new technology that uses the power of warm air to curl your hair. There are also tubes plugged into the rods to vacuum out any residue from the perm lotion to stop any further oxidation. This rids the process of any harsh chemicals resulting in a softer and supple perm. It cuts down the dryness by 40%. Great for those who have natural curls that lack definition, shape and want that extra boost or those with straight hair who want more texture with the bounce.
Many of our customers who have experienced the Airwave Perm enjoyed a result of a gorgeous, airy and silky finish that can be recreated again and again with little to no fuss. A pre-consultation is highly recommended before deciding on a perm " especially if it is your 1st perm ".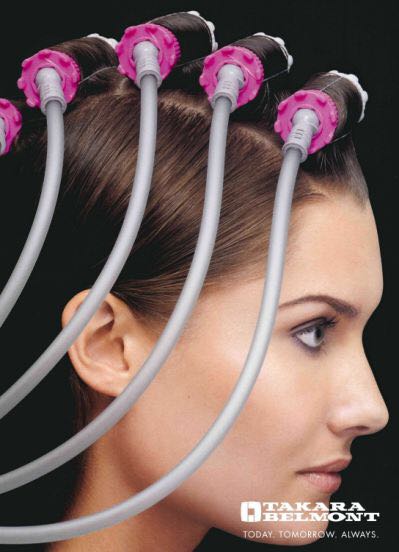 Call us at 62355328 and or email in to make a booking for a consultation.
click here for full price menu and appointment