His Unique Exposure
I am blessed to have met many people on my journey, each connecting the dots leading me to the next

– Casey Chua
After the successful launch of the Salon, Casey spent the next 35 years proving to be a Master Magician of the trade, propelling to the top of the game as Singapore went on fast track to becoming a Global city.
Royalties, Dignitaries and Celebrities
Casey has been honored to have personally attended to several Royalties, Dignitaries and Celebrities including Princess Charlene of Monaco, Princess Marie Chantal of Greece, Tengku Norani Iskandar of Johor, Margaret Thatcher, Hilary Clinton, Donna Karan, Anna Nicole Smith, Charlotte Church, Gong Li, Maggie Cheung, Jacintha Abisheganaden, Ning Baizura and Alexa Chung, amongst others.
International Fashion Designer
In Singapore, Casey was the favorite hair stylist to International Fashion Designer brands. He was appointed the main hair stylist to translate the latest hair do on their models for the launch of their main and seasonal collections in Asia for numerous years. Designer brands included Giorgio Armani, DKNY, Max Mara, Calvin Klein, Dries Van Noten, Jil Sander, Lanvin just to name a few.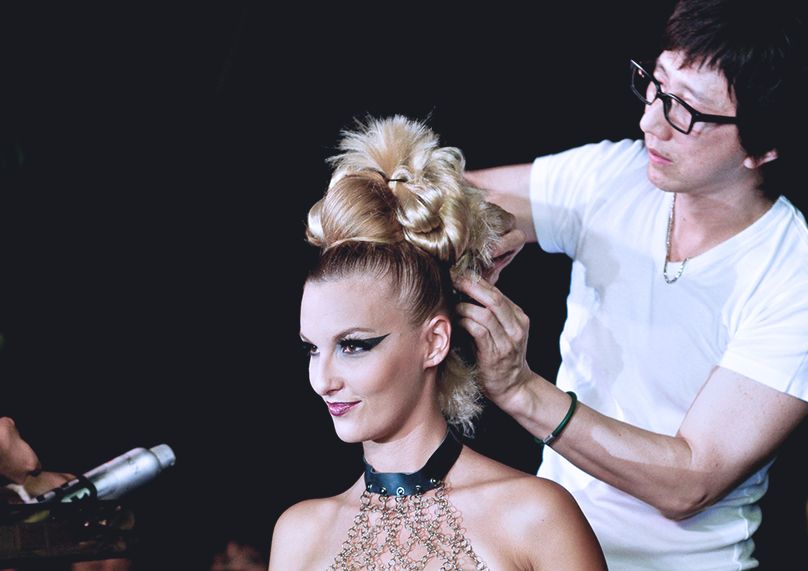 Redken Brand Ambassador
Casey gained further respect and recognition internationally when Redken 5th Avenue NYC appointed him Regional Performing Artist and Brand Ambassador for 9 years.
He represented Redken in the annual Mercedes Benz and Audi Fashion Festival shows for 5 consecutive years, presenting live extravaganza couture styling on stage showcasing his creativity and versatility. He was also involved in presenting avant garde styles in the Australian Hair Expo in Sydney.
Casey attended the 'Train The Trainers' program and conducted workshops and seminars in Korea, Taiwan, Malaysia, Australia and Las Vegas educating Redken's next generation of stylists in Asia.
Casey is the best hairstylist in Singapore, hands down

-Ovidia Lim – Rajaram
Singaporean
In addition, Casey has worked alongside some of the world's top hairstylists and collaborated with world-renown French fashion photographer Patrick Demarchelier, earning himself the reputation as a master of makeovers.
His work of art was also featured in several magazines including a special edition of "The Courvoisier" featuring best of the best around the world for salons, hotels and restaurants and "L'Oreal" a magazine by "L'Oreal De Paris" featuring top hair stylists in salons around the world.